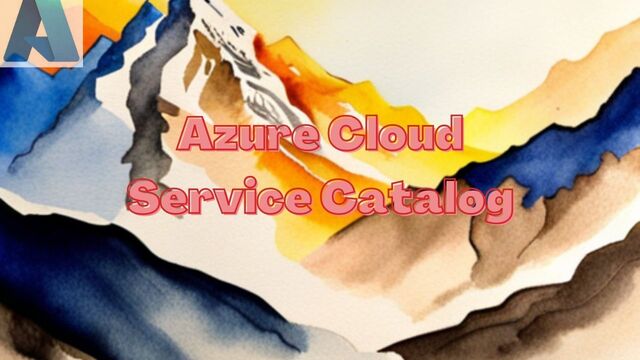 Unlocking the Power of Azure
Exploring 300+ Cloud Services and Their Purposes
All these services are availalbe at Link:
Introduction
Embracing the cloud has become an integral part of modern businesses, and Microsoft Azure stands out as a leading player in the realm of cloud computing. With a staggering portfolio of over 300+ cloud services, Azure offers a rich and diverse ecosystem to meet the ever-evolving needs of organizations across the globe. However, navigating through this extensive array of services can be a daunting task, as it is often challenging to grasp the purpose and potential of each offering. In this comprehensive guide, we aim to unravel the mysteries of Azure and shed light on the vast landscape of its cloud services. Join me on a journey of discovery as we explore, demystify, and showcase the range of Azure's offerings, empowering you to make informed decisions and harness the full power of the Azure.
AI + Machine Learning :
Create the next generation of applications using artificial intelligence capabilities for any developer and any scenario Link:. [:](
Anomaly Detector: Easily add anomaly detection capabilities to your apps.
Azure Bot Service: Build conversational AI experiences for your customers
Azure Cognitive Search: Enterprise scale search for app development
Azure Databricks: Design AI with Apache Spark™-based analytics
Azure Machine Learning: Enterprise-grade machine learning service to build and deploy models faster
Azure Open Datasets: Cloud platform to host and share curated open datasets to accelerate development of machine learning models
Azure Cognitive Services: Deploy high-quality AI models as APIs
Azure Video Analyzer for Media: Unlock video insights
Content Moderator GA: Automated image, text and video moderation
Custom Vision: Easily customise your own state-of-the-art computer vision models for your unique use case
Data Science Virtual Machines: Rich pre-configured environment for AI development
Azure Form Recogniser: Accelerate information extraction from documents
Azure Immersive Reader: Empower users of all ages and abilities to read and comprehend text
Kinect DK: Build computer vision and speech models using a developer kit with advanced AI sensors
Language Understanding: Teach your apps to understand commands from your users
Microsoft Genomics: Power genome sequencing and research insights
Personaliser: An AI service that delivers a personalised user experience
Project Bonsai: Create intelligent industrial control systems using simulations
[QnA Maker:]( https://docs.microsoft.com/en-in/azure/cognitive-services/QnAMaker/Overview/overview Distill information into conversational, easy-to-navigate answers
Speaker Recognition: A Speech service feature that verifies and identifies speakers
Speech to Text: A Speech service feature that accurately converts spoken audio to text
Speech Translation: Easily integrate real-time speech translation to your app
Cognitive Service for Language: Add natural language capabilities with a single API call
Text to Speech: A Speech service feature that converts text to lifelike speech
Translator: Easily conduct machine translation with a simple REST API call
Azure Metrics Advisor: An AI service that monitors metrics and diagnoses issues
Health Bot: A managed service purpose-built for development of virtual healthcare assistants
[Azure Applied AI Services:]( https://aka.ms/ScalerHomepage Specialised services that enable organisations to accelerate time to value in applying AI to solve common scenarios
Azure OpenAI Service: Apply advanced coding and language models to a variety of use cases
Azure Cognitive Services for Vision: Unlock insights from image and video content with AI
Analytics :
Gather, store, process, analyse and visualise data of any variety, volume or velocity Link:
Databases :
Support rapid growth and innovate faster with secure, enterprise-grade and fully managed database services Link:.
Developer Tools :
Build, manage and continuously deliver cloud applications—using any platform or language Link:
Internet of Things :
Bring IoT to any device and any platform, without changing your infrastructure Link:
Compute :
Access cloud compute capacity and scale on demand—and only pay for the resources you use Link:
Storage :
Get secure, massively scalable cloud storage for your data, apps and workloads Link:
Networking :
Connect cloud and on-premises infrastructure and services to provide your customers and users the best possible experience Link:
Security :
Protect your enterprise from advanced threats across hybrid cloud workloads Link:
Identity :
Manage user identities and access to protect against advanced threats across devices, data, apps, and infrastructure Link:.
Containers :
Develop and manage your containerised applications faster with integrated tools Link:
DevOps :
Deliver innovation faster with simple, reliable tools for continuous delivery Link:
Hybrid + multicloud :
Get Azure innovation everywhere—bring the agility and innovation of cloud computing to your on-premises workloads Link:
Azure Active Directory: Synchronise on-premises directories and enable single sign-on
Azure Arc: Extend Azure management and services anywhere
Azure Database for PostgreSQL: Fully managed, intelligent and scalable PostgreSQL
Azure DevOps: Services for teams to share code, track work and ship software
Azure ExpressRoute: Dedicated private network fiber connections to Azure
Azure IoT Edge: Extend cloud intelligence and analytics to edge devices managed by Azure IoT Hub
Azure Sentinel: Put cloud-native SIEM and intelligent security analytics to work to help protect your enterprise
Azure SQL Database: Managed, intelligent SQL in the cloud
Azure SQL Edge: Consume Services privately on Azure Platform
Azure Stack: Build and run innovative hybrid applications across cloud boundaries
Azure Stack HCI: Run your production workloads anywhere on hybrid, familiar hyperconverged infrastructure
Azure Stack Hub: Azure Stack Hub is sold as an integrated hardware system, with software pre-installed on validated hardware
Azure Stack Edge: An Azure managed device that brings the compute, storage and intelligence of Azure to the edge
Azure Modular Datacenter: A complete, rugged datacenter solution
[Azure Kubernetes Service Edge Essentials:]( https://azure.microsoft.com/en-in/products/kubernetes-service/#overview Azure Kubernetes Service Edge Essentials is an on-premises Kubernetes implementation of Azure Kubernetes Service (AKS) that automates running containerized applications at scale.
Azure Operator Insights: Remove data silos and deliver business insights from massive datasets
Azure Operator Service Manager: Simplify the deployment, upgrade, and management of complex operator services
Azure Operator Nexus: Discover a hybrid platform built for mission-critical mobile network applications and can support deployment of both containerized and virtualized network functions
Integration :
Seamlessly integrate on-premises and cloud-based applications, data and processes across your enterprise [Link:](https://azure.microsoft.com/en-in/products/category/integration/.
Management and Governance :
Simplify, automate and optimise the management and compliance of your cloud resources Link:
Media :
Deliver high-quality video content anywhere, any time and on any device
Migration :
Simplify and accelerate your migration to the cloud with guidance, tools and resources Link:
Mixed Reality :
Blend your physical and digital worlds to create immersive, collaborative experiences Link:
Mobile :
Build and deploy cross-platform and native apps for any mobile device Link:
Web :
Build, deploy, and scale powerful web applications quickly and efficiently Link:.
Windows Virtual Desktop :
The best virtual desktop experience, delivered on Azure
References