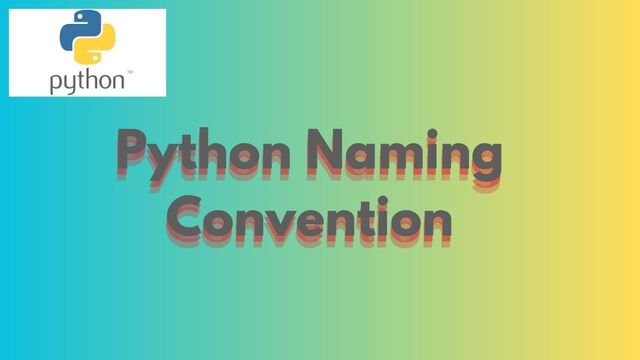 Python Naming Convention
UPPERCASE / UPPER_CASE_WITH_UNDERSCORES => module-level constants
lowercase / lower_case_with_underscores => for variable and function name.
CapitalizedWords (or CapWords, or CamelCase – so named because of the bumpy look of its letters [4]). This is also sometimes known as StudlyCaps. => CamelCase => Class

Note: When using acronyms in CapWords, capitalize all the letters of the acronym. Thus HTTPServerError is better than HttpServerError.

mixedCase (differs from CapitalizedWords by initial lowercase character!)
Capitalized_Words_With_Underscores (ugly!)
_single_leading_underscore: weak "internal use" indicator. E.g. from M import * does not import objects whose names start with an underscore.
single_trailing_underscore_: used by convention to avoid conflicts with Python keyword, e.g. tkinter.Toplevel(master, class_='ClassName')
__double_leading_underscore: when naming a class attribute, invokes name mangling (inside class FooBar, __boo becomes _FooBar__boo; see below).
__double_leading_and_trailing_underscore__: "magic" objects or attributes that live in user-controlled namespaces. E.g. __init__, __import__ or __file__. Never invent such names; only use them as documented.
Never use the characters 'l' (lowercase letter el), 'O' (uppercase letter oh), or 'I' (uppercase letter eye) as single character variable names.
Programming Recommendations
Use "is not" operator
Wrong:
Always use a def statement
Correct:
Wrong:
all try/except clauses
Correct:

try

:


  

value

 

=

 

collection

[

key

]




except

 

KeyError

:


  

return

 

key_not_found

(

key

)




else

:


  

return

 

handle_value

(

value

)




Wrong:

try

:


  

# Too broad!


  

return

 

handle_value

(

collection

[

key

])




except

 

KeyError

:


  

# Will also catch KeyError raised by handle_value()


  

return

 

key_not_found

(

key

)



Context managers should be invoked through separate functions or methods
with

 

conn

.

begin_transaction

():


    

do_stuff_in_transaction

(

conn

)



with

 

conn

:


    

do_stuff_in_transaction

(

conn

)



Be consistent in return statements
def

 

foo

(

x

):


    

if

 

x

 

>=

 

0

:


        

return

 

math

.

sqrt

(

x

)


    

else

:


        

return

 

None





def

 

bar

(

x

):


    

if

 

x

 

<

 

0

:


        

return

 

None


    

return

 

math

.

sqrt

(

x

)



def

 

foo

(

x

):


    

if

 

x

 

>=

 

0

:


        

return

 

math

.

sqrt

(

x

)





def

 

bar

(

x

):


    

if

 

x

 

<

 

0

:


        

return


    

return

 

math

.

sqrt

(

x

)



startswith, endswith
Use ''.startswith() and ''.endswith() instead of string slicing to check for prefixes or suffixes.
Correct: if foo.startswith('bar'):
Wrong: if foo[:3] == 'bar':
Object type comparisons
Correct: if isinstance(obj, int):
Wrong: if type(obj) is type(1):
Sequences, (strings, lists, tuples)
-For sequences, (strings, lists, tuples), use the fact that empty sequences are false:
if

 

len

(

seq

):


	

if

 

not

 

len

(

seq

):



boolean value comparision
Don't compare boolean values to True or False using ==:
Correct: if greeting:
Wrong: if greeting == True:
Worse: if greeting is True:
Assignment
If an assignment has a right hand side, then the equality sign should have exactly one space on both sides:
Correct: ```python code: int
class Point: coords: Tuple[int, int] label: str = ''
- Wrong:
code:int  # No space after colon
code : int  # Space before colon

class Test:
    result: int=0  # No spaces around equality sign

References
https://peps.python.org/pep-0008/#programming-recommendations