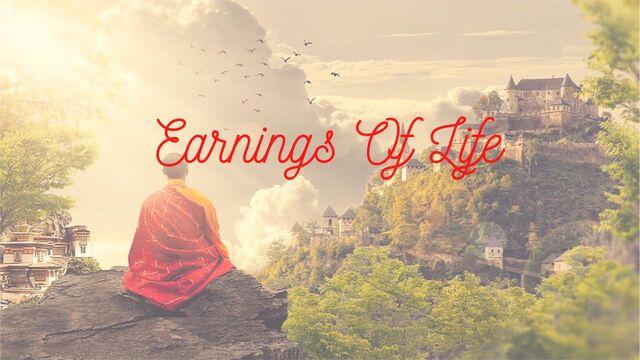 Earnings Of Life
Namaste,
You are living comfortably at your home.
You have inquisitiveness to know the world around
So you go out and travel as far places as you want to know.
While on the journey you feel you have to eat to survive
But you need money to eat and pay for
your temporary stay at different hotels.
For that, you need to earn money.
You learn some useful arts and skills.
The currency of the market is the onion.
So after acquiring skills,
you earn lots of onions to make your journey happy.
You are not happy due to the smell of the onion
because at home you didn't like onion,
you have different kinds of fragrances there.
So you are accustomed to the great smells.
Now you are in hell due to the onion's smell
Onion currency is the need of journey
so you have to earn it and keep it.
You want to travel more and see more.
For that, you earn lots of onion and keep it in an onion bank
so that you can withdraw at any time at any place.
One day you thought enough.
I want to go back home.
But your onion is the problem.
You want to show your earnings
and experiences of your journey to your family members.
Now, you withdraw all onion from your bank.
Put that in cargo and start traveling towards home.
It took you 2 months reaching back to your home.
In between due rain and humidity
Some of the onions start smelling more than others.
Anyhow, you reach home.
Your family members welcome you.
You unload lots of onions from your cargo and fill your house.
Other family members ask you not to do so
but you say it is my earnings
I earned it through hard work.
After some time, you also started feeling uncomfortable
with this onion smell.
You are at your home now, but again you are in hell.
Humans need to ask himself
Due to his desire, what is he creating?
Humans need to ask himself
After his hard work, what is he earning?
O Chaitanya, everyone has to go back home.
During travel feeling hell that is still ok
But after reaching home you shouldn't feel hell.
So don't indulge in any so-called good or bad of the need of the hours
That can give you a hellish experience
during your traveling back home or when you are back in your home.
Tat Tvam Asi
Your Truly Hari