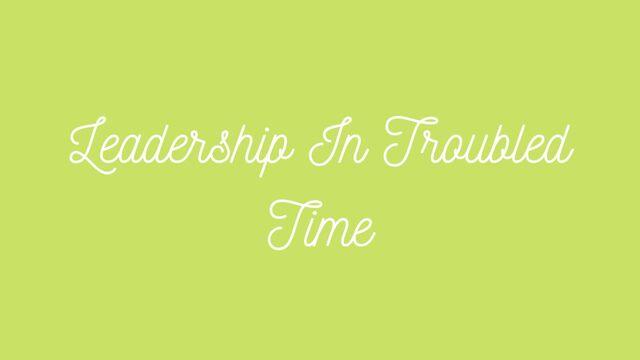 Leadership In Troubled Time
Enough we read, hear and lecture
Especially in the management profession and leadership positions.
Life every moment unfolds surprises
Many bring joy and others brings failure and sadness together.
We know success has many fathers
But there is no father of failure
Beyond the words, quotes, and poems
Many times in life we need to experience
all that severe pain in our life to understand.
Sitting in one place, we want to experience
what we understand is imagination.
On the other hand, we understand and comprehend
that what we experience is true life.
We all know win-lose, success and failure is part of life
Taking responsibilities, blaming others
is part of a regular business game.
By chance or by choice
How many times you are at a place where you should be
And empathize the way it should be.
It never comes from rehearsing,
acting & repeating those old quotes
But it comes spontaneously.
Photographers may catch or miss the moment
But you as a leader never fail to fill the other's
heart with hope and energy
And say without speaking –
Stand up and bounce back.
See this 30 seconds Video, Another Angle
This comes at the last moment failure of Chandrayaan 2
Watch the emotions of two great leaders
One is the tallest political leader of all time
and another is a leader of ISRO.
Enemy states, political commentators,
critics will pass their own comments.
And that is their profession.
But you observe it yourself
Ask, how many times you have this kind of boss around?
How many times you are this kind of boss for your team?
I am not a fortune teller
But mark my words,
if these two people have enough life
to serve the nation
they will do exceptional work for the science
and in turn for the society
because of that emotional energy and support,
Which is expressed at tough moments of life.
Beyond the boardroom meetings,
presentations, metrics, chilling review meetings,
competition, firing, and criticizing people around.
Can we demonstrate this kind of warmth?
Can we fill our team with this kind of energy?
Very difficult, why?
Because you need to be absolutely fearless to do this.
If one is not professional,
doesn't know his work
doesn't have the required skills
doesn't do his work in an utmost selfless way
will have fear of his job, criticism, reputation
That kind of people can never transfer this kind of energy.
Every organizations or person work for the goal,
some get success and some not
But only those live
Who lives with unconditional
empathy, humanity to a dedicated team.
Hari Om Tat Sat
Yours Truly Hari